OrganzaBags.com.au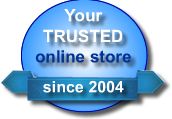 John and Wendy Carmichael have run this business since 2004. We have been importing organza bags from the same manufacturer since 2007. Our supplier is extremely reliable, and the quality is always excellent. Unlike other suppliers of organza bags, we are actually located in Australia, with an Australian business premises. Check the others- do they advertise their phone number and their address? We are located in Taree NSW (sorry, we are not open for drop-in sales).
If you have other questions please consult our frequently asked questions, or contact us direct - we speak genuine Aussie english!.
We welcome enquiry from perfume makers, hotel chains and event organisers wanting to use organza bags.
Quality guaranteed - consistent shape, size, colour and stitching, or your money back.

Wholesale pricing to the public and wedding planners and skin care companies.