Australian Supplier of quality organza bags and pouches for use in wedding favours, gifts, bombonieres, as jewellery bags- cheap organza bags wholesale australia
OrganzaBags.com.au

product #047d

Check your order
Go to Checkout

To specify your own mix of colours, choose

mixed

from the colour drop-down box to the left

Colours that are currently in stock:

We are currently out-of-stock of Royal blue
Organza Wine bottle bags - 500+ price
- buy in bulk and save- minimum order of 500 required
Price per product is $AUD0.59
More pictures for this item: white bag . silver bag . champagne bottle bag .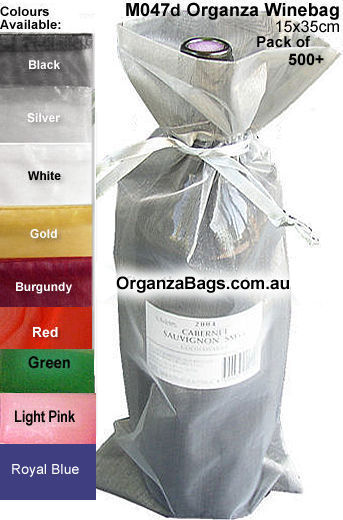 Organza Bag supplies from Ontheinternet Products
- your online store for quality organza bags
All bags are posted from our stocks held in Australia
[Home page] [ List all products ]